Welcome to Physio Medicare
---
Why Choose Us
We treat the person & condition not just the symptoms.
All our physiotherapists are professionally qualified (Bachelor  or Masters in Physiotherapy) and has experience in the field.
We are registered with the Health Ministry & All our Physios are registered with Sri Lanka Medical Council.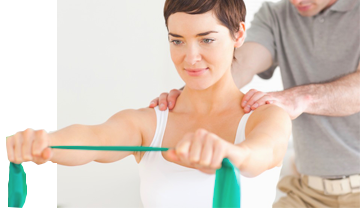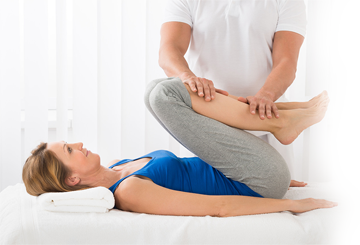 PHYSIO MEDiCARE
At PHYSIO MEDICARE, we aim to maximize the quality of life through the following:
Promotion       :  Promote a healthy lifestyle.
Prevention      :  Taking precautionary steps.
Rehabilitation :  Learning how to manage the condition, repair the damage and restore the body.
Meet Our Specialists
---
Ms. Nilakshi Kasilingam
Chief Physiotherapist
She has a Bachelor of Bachelor of Physiotherapy from the Rajiv Gandhi University, Bangalore.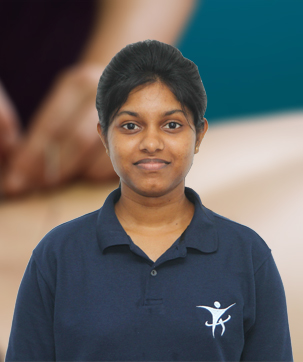 Ms. Nidhya Krishnamoorthy
Dry Needling Specialist
She has a Bsc In Physiotherapy, Peradeniya University.
Mr. Shawn Roche
Pain management specialist
He has an Msc In Advancing Physiotherapy Practice, Coventry University UK.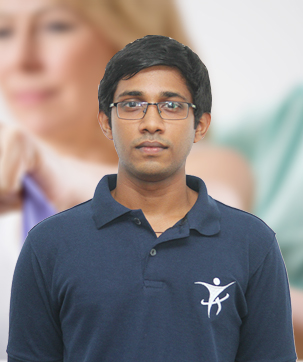 Mr.Tiyan Jacob
HND in Physiotherapy
He practices Musculoskeletal & Neurological rehabilitation Physiotherapy.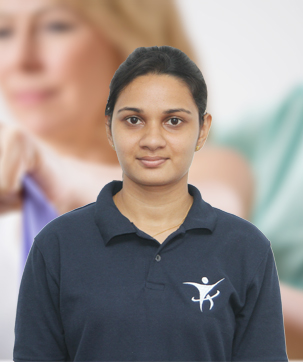 Ms.Ravini Atapattu
HND in Physiotherapy
She practices Musculoskeletal, Cardio respiratory & Neurological rehabilitation Physiotherapy.
Mr.Yohan Manula
HND in Physiotherapy
He practices Musculoskeletal & Neurological rehabilitation Physiotherapy .
Ms. Abisha Jayaraman.
Physiotherapist
Bachelor of Physiotherapy, from Sri Ramachandra Institute Of Higher education and Research Institute, Chennai.
Testimonials
---
I highly recommended physio medicare and their way of treating and talking are gentle.
I highly recommend Physio Medicare,Thank you Gayan for all the advise,it was really helpful.
I highly recommend Physio Medicare. The staff are professional, friendly and efficient. Precise in their diagnosis and brilliant in their treatment. There's no better physiotherapy clinic. Thank you Shawn Roche for the treatment and all the advice.
The service provided is excellent. Qualified and well trained staff. I was under the supervision of Mr. Gayan who was my therapist. A very patient and hospitable staff who helped me mobilize my arm after a recent arm dislocation. I have also observed that the other therapist there too are very kinds and patient specially with the elderly people who are handled with utmost care.The place is well equipped and hygienic. A highly recommended place for physiotherapy.
I started seeing Gayan 5 months after my MCL reconstruction repair operation and the results are really good. He is supportive, friendly and very good at the diagnosis and treating with the right types of exercises. Gayan is a terrific Pyhsio. He is very thorough and professional. He took care to understand my problems. He always encouraging and put lots of efforts my recovery. Currently at 6 months after my surgeries, I am almost as good as i used to be!. It's not too far for me to start my running routine. I'm very happy with his service. Highly recommended Gayan. Also, highly recommend this Physio Medicare. I recommend this is the best Physiotherapy in Sri Lanka. Stephen Loranzu Fernandez
They diagoned my sciatica pain accurately and made to ease via right treatment. it was a very effective pain relief. Gayan was very clever and caring. i will highlyy recommend the entire team at physio care.
Very professional & very kind service during physio sessions for a chronic backache I had. A big thank to all, especially Shwan Roche. I really would recommend him for any chronic pain. Thank you !!
shaun was recommended by a friend of mine and I went there for treatments due to a shoulder injury and chronic back pain I was suffering from for years. after the chiropractic session the shoulder pain and the lower back pain was much less. I tried the dry needling treatment and the scar tissue buildup in my glutes has disappeared. Thank you Shaun for your excellent service , highly recommended 👍
A clinic that doesn't charge an arm or leg to treat one.. Very satisfied with the treatment and advice given for an ankle related injury. Shoutout to Physio Tiyan for the service.
My son was directed to Tian with first level of Tennis Elbow injury which was leading to his right thumb. He identified the injury at first instance and treated well. within three seasons he was fully recovered and back on the court. Highly recommended for sports related injuries..
I am Thadchayani Varatharajan I started to attended Physio treatment, with Physio Medicare under the guidance of Ravini Attapathu. At the moment I feel much more comfortable than I was with my aches and pain,before I went for treatment. I wish Ravini the best in her career & say thank you for the friendly atmosphere she gives me during the treatment.💐
I am really happy with the service that physio medicare offered, and I highly recommend Shawn Roche who treated me... I had back and neck pain for quite a while and couldn't stand/Sit for long time.. as recommended by one of my friend, i went and met Shawn I had two session with him... and TAADAA... i can already see the result now THANK YOU SO MUCH Shawn 👍
Following an accidental fall that fractured my left wrist I was wearing a POP cast from the palm right up to the arm just above the elbow restricting any movement for 6 weeks. Post removal of the POP cast I was suffering from intense pain and swollen forearm, wrist and fingers. This didn't let me grab heavy objects, lift anything with my left hand and made work very painful. Thankfully my CEO, Mr. Balendran Kandeban recommended Physio Medicare. The moment I walked into the center I felt a sense of warmth and genuine caring. It is absolutely fantastic, superb care with no waiting and personalized service with a high level of professionalism from Gayan Sanjeewa, the physio who was assigned to me. I am very impressed with the treatment received from Gayan. He quickly diagnosed the problem and probable cause and started treatment with a combination of massages, heat therapy and exercises that gradually relieved me from the pain that I was suffering with many sleepless nights. He is knowledgeable in what he does and explains everything in detail about the treatment he is providing. After having to go three times a week for a short while to get me out of the spasm, I am now in the happy position of twice a week and will hopefully attend one more session and thereafter on a need basis. A big thank you to Gayan for always listening to and evaluating my responses throughout and providing redress from all my aches and pains to make me feel so much better. Indeed without doubt you are the best physio I have ever been treated by.
I have been having this Sciatica nerve irritation for 2 months that led to severe pain and numbness on my left leg which has caused some muscle trigger points. I started to go for numerous famous physio therapists in Colombo and none of them worked for me, as they are only money minded and not bothered about treating the problem. But then my Instructor found out and He suggested to go to Physio Medicare in Dehiwala. There I met Shawn and within 2 to 3 sessions he cured me fully and I have no hesitation to recommend him to anyone. If you are a sportsman or looking for a physiotherapist treatments, I suggest he's the best for your physio needs.
Mr. Yohan was my Physio. Great service and I am happy with his treatment for my knee.
I highly recommend Physio Medicare and especially the services of Shawn Roche who treated me. He is very friendly. I had serious back pain for more than about 2 months. Sometimes I can't walk the pain really bad for me. I went to doctors but not got a fixed result. I met Shawn, he analyzed my problem and treated. One time chapter close. Yes, my back pain runs away :). I am very good now. I can highly recommend Shawn Roche. Thanks for that.
I went to Physio Medicare to get treated for a back injury that I had sustained and a lot of my friends and colleagues who train muay Thai and BJJ suggested that I go see Shawn regarding it. Just after the session I was feeling a lot better and the situation improved even further just after a few hours. I highly recommend physio Medicare and Shawn for all your sports physio needs! He left an outstanding impression on me just after this one session and he is very supportive and professional! Once again, thank you very much Shawn!
I was very impressed from the first day I met Shawn. He's been very supportive n professional throughout the whole time. He actually found the root cause to all the issues I've been having for many years and has treated me n given me all the instructions to follow. He's been very helpful and checking whenever he can, whether im making progress or how he can help me. He's simply the best. The only thing I regret is not going to meet him sooner.
I highly recommend this physio therapy centre Excellent service, For the past one and half years I was suffering from severe knee and back pain which I couldn't bear it. I visited so many doctors and got many medical advice but it didn't worked anymore. Finally through some known people I got to know this physio Medicare therapy centre. I went their for the treatment. Very much friendly staffs especially my Physician Nidhya, she is so much talented and a pleasant and care taking lady. I am now very much cured and I definitely recommend this place. Actually my condition was so bad before going to this Medicare therapy centre. The pain lead me to meet up the surgery , but my Physician took very much care on me and trained me very well and fully changed the situation. I am very happy to say my physician Nidhya is one of the best physicians I have seen and experienced so far
I was suffering from a pinched nerve. since 1st of January 2019. a friend of mine recommended me to go to Physio Medicare. And tell all my medical problems and physical issues I am going Through... I met Shawn Roche I only went for three sessions and he fully treated me. I am now fully recovered. and feeling much better... Thank you! Shawn Roche 🙂 you really got magic hands 🙂 I would totally recommend Physio Medicare! To anyone Who needs physiotherapy.
Excellent service with kind staffs From zareena Ajim
This place is amazing!!! I have taken PHYSIO at most of the private hospital in Sri Lanka but those private hospitals are waste of time and money,, I can recommend PHYSIO MEDICARE who need quick recovery !!! The person who treated me Mr. Gayan is amazing therapist !!!! GOOD LUCK!!!!! ghazaly ismath London
5 star treatment, massive improvement in my mobility and recovery after just one session 💯
I've been visiting Physio Medicare since 2016. I greatly value their service and care given towards my knees. I greatly appreciate the efforts shown by Raveene and her team in making my treatment process smooth and comfortable.